Anunciadas las galardonas a los She Rocks Awards 2016
by Redacción
11/12/2015
The Women's International Music Network (the WiMN) se complace en anunciar a las galardonadas a los She Rocks Awards 2016 que se celebrarán el 22 de enero en Anaheim.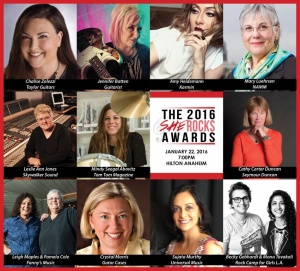 Los She Rocks Awards 2016 se celebrarán el próximo 22 de enero a las 7:00 p.m. en el Anaheim Hilton Hotel en Anaheim, California. Los premios She Rocks Awards 2016 serán presentados por Laura B. Whitmore, fundadora del WiMN, y las galardonadas son:
• Jennifer Batten, aclamada guitarrista
• Amy Heidemann del duo Karmin
• Mindy Seegal Abovitz, baterísta y fundadora de Tom Tom Magazine
• Cathy Carter Duncan, co-fundadora y CEO de Seymour Duncan
• Becky Gebhardt y Mona Tavakoli, co-fundadoras del Rock n' Roll Camp for Girls L.A. y miembros de Raining Jane
• Leslie Ann Jones, Directora de Recording y Scoring en Skywalker Sound
• Mary Luehrsen, Directora Ejecutiva de NAMM Foundation
• Sujata Murthy, Vice Presidente Senior, Relaciones Pública, Universal Music Enterprises
• Leigh Maples y Pamela Cole, fundadoras de Fanny's House of Music
• Crystal Morris, co-fundadora y Presidente de Gator Cases
• Chalise Zolezzi, Directora de Comunicaciones de Marca en Taylor Guitars
"No podríamos estar más orgullosas de nuestras homenajeadas de 2016. Cada una ha contribuido a la industria en su propia manera, inspirando y ayudando a otros a través de sus incansables esfuerzos. Es emocionante ser capaces de homenajearlas a todas y compartir esta celebración con colegas y fanáticos" dijo la fundadora de WiMN, Laura B. Withmore.
Por cuarto año consecutivo, los She Rocks Awards rinden tributo a las mujeres que sobresalen y muestran liderazgo fuera y dentro de la industria musical, y se ha convertido en un estándar en NAMM Show. Una porción de las ganancias irán a beneficio del Girls Rock Camp Alliance y la NAMM Foundation.
Para asistir al evento no necesita un pase de NAMM. Las entradas están a la venta en sherocksawards.com